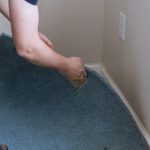 If you are replacing your old carpet with a new one, you might find yourself wondering how to dispose of the old carpet. One of the easiest and most convenient ways to get rid of old carpet is by renting a rolloff. Rolloffs are large containers that are perfect for hauling away bulky items such as carpet and can save you time and effort. In this blog post, we will discuss the benefits of renting a rolloff when disposing of your old carpet.
1. Convenience
Renting a rolloff for carpet disposal offers unparalleled convenience. Instead of making multiple trips to the landfill or recycling center, you can simply throw the old carpet into the rolloff container. This eliminates the hassle of transporting the carpet on your own and saves you time and effort. The rolloff can be placed on your property, making it even more convenient as you can easily access it whenever you need to dispose of more carpet.
2. Cost-effective
Renting a rolloff is a cost-effective solution for disposing of your old carpet. Rolloff rental companies typically charge a flat fee based on the size of the container and the duration of your rental. This means you don't have to worry about additional fees or expenses, making it an affordable option for carpet disposal.
3. Time-saving
Renting a rolloff can save you valuable time. Instead of spending hours trying to figure out how to dispose of your old carpet, you can simply rent a rolloff and focus on the carpet replacement task at hand. Once you are done removing the old carpet, you can easily toss it into the rolloff container without any hassle. The rental company will then take care of hauling it away, allowing you to move on with your project without any delays.
4. Environmental benefits
When disposed of improperly, carpet can have negative environmental impacts. By renting a rolloff, you can ensure that your old carpet is disposed of in an environmentally responsible manner. Rolloff rental companies have a proper waste management system in place and will ensure that your carpet is recycled or disposed of in accordance with local regulations. This helps reduce the amount of waste sent to landfills and promotes sustainability.
5. Versatility
Rolloffs come in various sizes, allowing you to choose the one that best suits your needs. Whether you're replacing carpet in a single room or an entire house, there's a rolloff container size that can accommodate your disposal needs. The versatility of rolloffs makes them an ideal choice for any carpet removal project, regardless of its scale.
Conclusion
Renting a rolloff when disposing of your old carpet offers numerous benefits. It provides convenience, cost-effectiveness, and time-saving advantages while promoting environmental sustainability. The versatility of rolloff containers allows you to choose the size that fits your project requirements. So, instead of struggling with multiple trips to the landfill, renting a rolloff is the smart choice for hassle-free and efficient carpet disposal.
Got Questions? Let Us Help!
Welcome to Dumpster Rentals Nashville by Griffin Waste, LLC. We are the Nashville, Tennessee locally owned and operated dumpster rental service. Our dumpsters comprise of 10-yard containers that are perfect for residential or light commercial purposes. Each dumpster rental includes delivery, pickup, and up to 4 tons of material. Our convenient Nashville dumpster rental services can easily fit in the most tightest of places and location. Contact us today to learn more about what we can do for you!